Welcome and thank you for stopping by my website.
Please come to my blog as well.

How are you?

I love to share my happy news with you.

Senator Mike McGuire selected my painting "766.A Barn by the Hwy One" for the Senate's 2017-2018 California Contemporary Art Collection Exhibit.
The Senate initiated this program in 1997 to recognize contemporary California Art. Each Senator is asked select an artist his/her district to exhibit their artwork there in the Stare Capital for approximately 18 months. A catalogue of the collection is also produced.

40 paintings which is including mine were selected for this exhibit.
My painting represents from north of SF to the border of Oregon.
I'm very delighted and feel so horned.

I hope you are doing well.
Have a nice days,
Mariko Irie


My shows are scheduled in 2017.

The Highlight Gallery:
July 1 - 31
Reception: July 8th Second Saturday, 5-8pm
45094 Main Street Mendocino, CA 95460
707-937-3132
www.thehighlightgallery.com


The Northeast Artists Gallery:
August 30 - Oct. 2
Reception: September 1st First Friday, 5-8pm
362 N. Main Street Fort Bragg CA 95437
707-964-8266
www.northcoastartists.org

Please come to see my shows.
Hope to see you at my show receptions.
Have happy days,
Mariko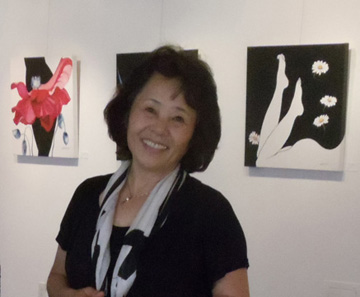 MARIKO IRIE

Born and raised in Tokyo, lifelong artist Mariko Irie received her BFA at Musashino Art University in Tokyo in 1973. In 1982 Mariko moved to Mendocino to pursue her painting . She studied printmaking with Robert Rhodes and American Realism painting with Bill Martin at College of the Redwoods in Fort Bragg.
In November of 2009 she moved to San Diego to expand her world. Now she is back in the Northern California.

Mariko's search for peace and eternal beauty finds expression in the silence of her paintings in which her images give the viewer room for contemplation.

For over twenty years Mariko has been fascinated by watercolor. She uses a wet into wet technique, working with the special properties of watercolor to enhance the medium's unique charm. Layers of transparent glazes create very rich paintings which delight the viewer with their traditional style and wonderful contemporary feel.
She paints in Watermixable Oil which is made from pigment and linseed oil, which doesn't contain turpentine, paint thinner, such fume which she is allergic to. Watermixable Oil painting is forgiving. She is really enjoying painting in this rich and vivid color medium as well as painting in Watercolor.

She has been in numerous solo and group shows, receiving prizes as well as having paintings selected for posters of the Winesong 1995, the Mendocino Music Festival 2004, "The Voices From Earth" concert 2005, "Art in the Garden" 2008, "Mendocino Art Center's Mendocino Coast Garden Tour 2013" and cover of the magazine "Mendocino Arts" winter issue 2008. Her art works are well known locally and widely collected privately and publicly throughout the United States, Japan, England, Germany and Canada,.


At present the paintings of Mariko Irie can be seen at the Northcoast Artists Gallery in Fort Bragg, the Mendocino Art Center and The Highlight Gallery in the village of Mendocino and at the very charming Wine Tasting Room at Glendeven Inn, Little River, California.

345. A Pear
233.Woman's back
764. Dancing with the Moon#4