Welcome and thank you for stopping by my website.
Please come to my blog as well.



How are you?

I came back from Japan one week ago. This time I stayed there for only two weeks. I had a great time and I felt it was too short.

I touched nice feelings from my brother, his wife, my mom, my friends came to see me and even shop keepers…

And I found two nice books in Japanese by Kotaro Hisui & Friends. Both books are talking about "Happy".

Everything I knew what he is talking about, but it's nice to hear his explanations including a lot of good quotes.

"It's not true: you smile because you are happy. The truth is: you smile, that makes you happy." "Happy is not just coming to you, you have to notice it."

"When people see half of water in a cup: a person says, "That is sad, because it's only half left." Other person says, " That is good, there is still half of water in a cup." How do you see?"

" Loving each other is not looking at each other, looking at the same direction."

"Soseki Natume who was a Japanese novelist of the Meiji period, translated "I love you" to " The moon is so beautiful, when you are with me." So on.

As reading these books, I'm getting be warm, relax and feeling good.

Be happy is contagious, so let's be happy for our world!

I hope that you are doing well.

Happy Holidays,

Mariko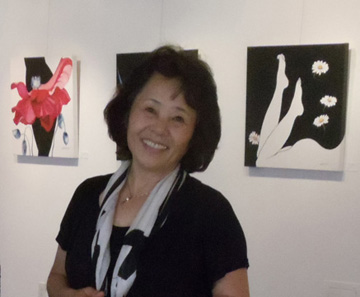 MARIKO IRIE

Born and raised in Tokyo, lifelong artist Mariko Irie received her BFA at Musashino Art University in Tokyo in 1973. In 1982 Mariko moved to Mendocino to pursue her painting . She studied printmaking with Robert Rhodes and American Realism painting with Bill Martin at College of the Redwoods in Fort Bragg.
In November of 2009 she moved to San Diego to expand her world. Now she is back in the Northern California.

Mariko's search for peace and eternal beauty finds expression in the silence of her paintings in which her images give the viewer room for contemplation.

For over twenty years Mariko has been fascinated by watercolor. She uses a wet into wet technique, working with the special properties of watercolor to enhance the medium's unique charm. Layers of transparent glazes create very rich paintings which delight the viewer with their traditional style and wonderful contemporary feel.
She paints in Watermixable Oil which is made from pigment and linseed oil, which doesn't contain turpentine, paint thinner, such fume which she is allergic to. Watermixable Oil painting is forgiving. She is really enjoying painting in this rich and vivid color medium as well as painting in Watercolor.

She has been in numerous solo and group shows, receiving prizes as well as having paintings selected for posters of the Winesong 1995, the Mendocino Music Festival 2004, "The Voices From Earth" concert 2005, "Art in the Garden" 2008, "Mendocino Art Center's Mendocino Coast Garden Tour 2013" and cover of the magazine "Mendocino Arts" winter issue 2008. Her art works are well known locally and widely collected privately and publicly throughout the United States, Japan, England, Germany and Canada,.


At present the paintings of Mariko Irie can be seen at the Northcoast Artists Gallery in Fort Bragg, the Mendocino Art Center and The Highlight Gallery in the village of Mendocino and at the very charming Wine Tasting Room at Glendeven Inn, Little River, California.

345. A Pear
233.Woman's back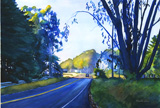 592. Driving in the Sun

316. A Bird