Welcome and thank you for stopping by my website.
Please come to my blog as well.



How are you?

My first show in Santa Rosa started.

The place is at Simon Gallery in Finley Community Center, Senior Wings:

http://ci.santa-rosa.ca.us/DEPARTMENTS/RECREATIONANDPARKS/PROGRAMS/ARTSANDCULTURE/EXHIBITIONS/Pages/SeniorWingatFinley.aspx

It's modern beautiful big buildings. The Simon Gallery is upstairs, you may take a nice elevator to upstairs and the gallery is there.

Exhibit dates: June 9th through September 3rd 2015.

Reception: Wednesday June 10th, 4:30-6:30pm

Hope to see you there.

They have a huge parking lot, no charge.

They have a lot of activities. I play Ping-Pong there.


I created a page Mariko's show at Simon Gallery 2015. Please visit.


And other my solo show will be at the Northcoast Artists Gallery in Fort Bragg.

I will show new works.

Exhibit dates: August 7th through August 31st 2015

Reception: The First Friday August 7th, 5pm-8pm

Hope to see you there.

Already half year is passing by, this year 2015 is so far, so good.

Mariko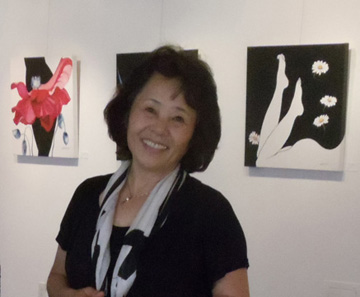 MARIKO IRIE

Born and raised in Tokyo, lifelong artist Mariko Irie received her BFA at Musashino Art University in Tokyo in 1973. In 1982 Mariko moved to Mendocino to pursue her painting . She studied printmaking with Robert Rhodes and American Realism painting with Bill Martin at College of the Redwoods in Fort Bragg.
In November of 2009 she moved to San Diego to expand her world. Now she is back in the Northern California.

Mariko's search for peace and eternal beauty finds expression in the silence of her paintings in which her images give the viewer room for contemplation.

For over twenty years Mariko has been fascinated by watercolor. She uses a wet into wet technique, working with the special properties of watercolor to enhance the medium's unique charm. Layers of transparent glazes create very rich paintings which delight the viewer with their traditional style and wonderful contemporary feel.
She paints in Watermixable Oil which is made from pigment and linseed oil, which doesn't contain turpentine, paint thinner, such fume which she is allergic to. Watermixable Oil painting is forgiving. She is really enjoying painting in this rich and vivid color medium as well as painting in Watercolor.

She has been in numerous solo and group shows, receiving prizes as well as having paintings selected for posters of the Winesong 1995, the Mendocino Music Festival 2004, "The Voices From Earth" concert 2005, "Art in the Garden" 2008, "Mendocino Art Center's Mendocino Coast Garden Tour 2013" and cover of the magazine "Mendocino Arts" winter issue 2008. Her art works are well known locally and widely collected privately and publicly throughout the United States, Japan, England, Germany and Canada,.


At present the paintings of Mariko Irie can be seen at the Northcoast Artists Gallery in Fort Bragg, the Mendocino Art Center and The Highlight Gallery in the village of Mendocino and at the very charming Wine Tasting Room at Glendeven Inn, Little River, California.

345. A Pear
233.Woman's back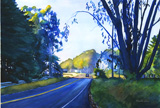 592. Driving in the Sun

316. A Bird